Posted by chanxj on 05 Apr 2008 at 07:26 pm | Tagged as: Music
My job as a soundman brings me to many places and day by day, I see the evolution of our reliance on electronics.
Over at Republic Poly sometime in march last year, they have a state of the art cultural center fitted with wonderful state of the art sound equipment such as the sennheiser 3000 series wireless mics and the industry reowned Yamaha PM1D Digital sound mixer. Below is me with the mixer.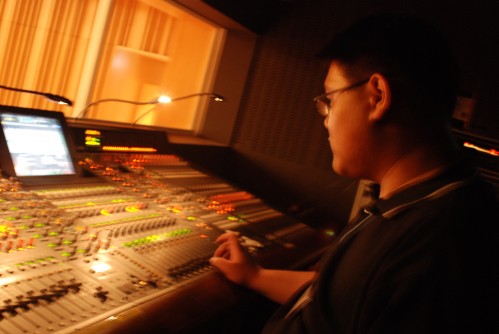 A Digital mixer is really a godsend if the performance ur mixing for involves more than 1 A Cappella Group UNTIL
The mixer crashes!!! YES IT CRASHES. Its technically a "computer" remember? That is the very time, I'm really wishing i had the analog mixer that i always want to junk.
The effects are not patched through, the sound kept clipping due to the processor not working properly etc.
This is one of those days where we really have to think whether we should increase our reliance on electronics.
3 Responses to "Reliance on Electronics"



That's what you get when your OS development team takes a leaf out of Microsoft's books. Blue screen rocks!




Yamaha D1 mixer power! But, agreed, I have heard of these mixer crashes. Haven't experienced it for myself, since I haven't touched one so powerful yet. The most I've been at is one at my church that isn't so great.

Analog mixers are awesome, but digital mixers do give us a bit more flexibility with the sound's panning and effects – save the one you just handled.

One thing, though – you must get me to visit that space soon. I wanna try the mixer!

-MP

on 08 Apr 2008 at 11:54 pm chanxj




Hi MP,

I agree its far more flexible as u dun need to worry so much abt which effects rack etc to bring

If im at the the republic cultural center(TRCC) i will let u noe
Leave a Reply